Jagnefalt Milton generates more than 30,000 page views every month. This blog is targeted towards entrepreneurs and anyone interested in sports, entertainment, technology and business. The age of 70% of the viewers is 20+. The ratio of male audience to female audience is 60:40. Our Facebook page currently has 100,000 likes and we have more than 50,000 Twitter followers.
We offer multiple advertising options for our clients. Here are some of the ads we offer.
Stripe Ad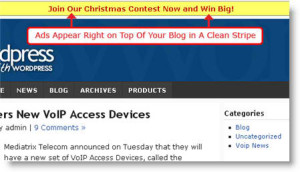 It is a text ad that appears on the top of the blog. This is the first thing the readers will see when they will visit our site. The ad is locked so the readers can always view the ad. The text ad can have up to 50 characters of description. It costs $250 per month.
728×90 Premium Ad Sponsorship
This ad will appear on top of each page of the blog. This type of ad will cost $1,000 per month. The maximum size of the banner must be 30K.
125×125 Button Sponsorship
This ad will appear on each page. The size of the button must be less than 15K. The pricing per month is $500.
Sponsored Reviews
Sponsored reviews will be posted on top of the front page for 12 hours. This gives maximum exposure to the readers. The rate for this type of advertising is $500.
Ads are sold at a monthly rate. If you don't cancel the ad subscription, it will keep on renewing every month. For more information regarding our advertising options, please contact us.